---
Become a member of the SemperVerus Brotherhood™ and remind yourself to Stay True every moment of the day when you wear the official SemperVerus waterproof flexible rubber inspirational wristband (AKA removable tattoo), 1/2″ wide x 8-1/2″ circumference. Bearing the Latin "SemperVerus" signet on the exterior and its English translation "Stay True" on the interior, select from white text on red (left image), red text on black (middle image), or black text on red (right image). $5 each (shipping included) or $10 for all three (shipping included). Makes an endearing "coming-of-age/rite-of-passage" symbol for your children. To purchase, indicate your selection preference by using the form on the Contact page or sending an email directly to staytrue@semperverus.com. A PayPal invoice will be sent to you.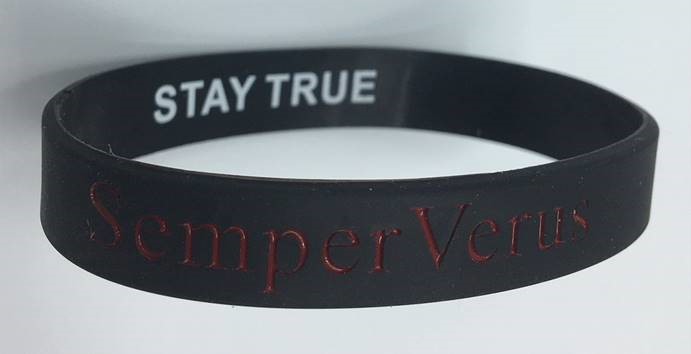 ---
---
Invite SemperVerus to present its 5 main strategic principles—prepare, aware, be, know, do—to your organization to inspire and motivate your members.
Join the SemperVerus Brotherhood™!